One of the fun things to do in Cocoa Beach is to be in or on the water. Kayak rentals in Cocoa Beach or a kayak tour in Cocoa Beach is one of the top fun things to do. These trips are popular with folks that want to learn from our experienced guides. Please call to reserve your kayak tour, kayak rental, stand up paddle board tour or stand up paddle board rental.
Cocoa Beach has become a popular vacation destination because you get the Beach and are also within close driving distance to both the Kennedy Space Center and Orlando area theme parks.
Spring Break 2016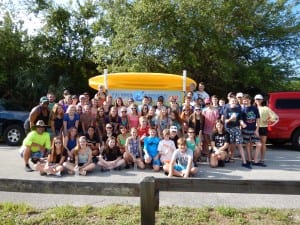 Spring Break 2016 is here and folks are really looking for fun things to do in Cocoa Beach. I see more and more big groups coming to Cocoa Beach for spring break. They plan these trips way in advance and they are not looking for the big party that you would think college kids do. I see these groups booking my Kayak tours in Cocoa Beach for a different kind of fun. Getting on a kayak tour filled with nature and adventure is a welcome break from the beach. As these groups leave my kayak tours I often hear them say, "I am so glad we found this activity." For families, the kids have the best time splashing each other with the paddles and seeing wonderful Florida away from the Beaches and theme parks. We offer a unique experience.
Book your Kayak tour, kayak rental, stand up paddle board tour or stand up paddle board rental in advance. We get very busy and you want to make sure can do the fun things in Cocoa beach