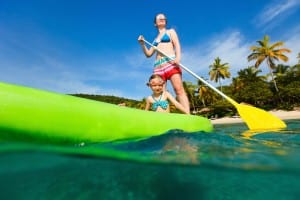 Calypso Kayaking has added paddle board rentals and tours in the Cocoa Beach area. Folks drive from all over the Central Florida area to experience the Indian River Lagoon. It is a short drive from Orlando, Melbourne and Cocoa beach. My paddle board rentals start for as little as $10 for one hour, $22 for 2 hours, $29 for 4 hours and $45 all day! Paddle boarding is increasing in popularity because it is a great way to get a full body work while having fun and not having to go a gym.
Cocoa Beach Paddle Boarding Is great for this area because there is no current in the Indian River. The hardest thing with paddle boarding is fighting the wind and currents. People Also get to see all kinds of wild life and marine life while paddle boarding in the Cocoa Beach area. The Indian River Lagoon is one of the most diverse eco systems in the world. While paddle boarding you often encounter manatees and dolphins that call these waters home. Manatees may approach your SUP to investigate who is sharing the water with them, manatees find our SUP interesting. My SUP, short for stand up paddle board are Yolo yaks constructed of plastic making it great for rentals.
If you want to rent a SUP or paddle board it is great for all ages but you should be some what fit. You need a good sense of balance while paddle boarding. there is a good chance of falling while paddle boarding so dress to get wet. Once you get the hang of your SUP, you won't fall off it as much. I invite you slip away with me and do some paddle boarding in Cocoa Beach. If you come from Orlando to visit Cocoa Beach, add a SUP rental to make a great day on or in the water. I hope to see you soon.
Phil
owner , Calypso Kayaking