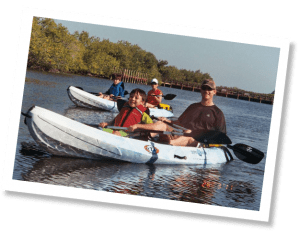 Calypso Kayaking is a mobile kayak and paddleboard outfitter. All equipment is loaded on a kayak trailer and is brought to many different locations in the Cocoa Beach and Merritt Island areas. Most of my tours and rentals will launch from Manatee Cove Park (4905 North tropical trail, Merritt Island, Fl. 32953). This area has the best wildlife viewing, you may encounter Atlantic Bottlenose Dolphins and the endangered Manatee. It is always a thrill to see these mammals in the wild. You will see the birds that call Florida home like Osprey, Great Blue Heron, Great Egret, Tri-colored Heron, Snowy Egret, White Ibis and Brown pelican- just to name a few. Explore an Island and search for shells and marine life in the clear shallow waters of the Indian River. a must do if you are in the central Florida area.
We also offer rentals at Manatee Cove and Kiwanis Island park. You may rent a kayak or paddleboard to pick up and take with you. Rent by the hour, the day or all week.
call to reserve a tour or rental, 321-639-7350
you can book a tour on my web site, click on Book a trip.
I offer car top carriers, giving you the option of taking a kayak or paddleboard rental with you to any location you want. You are not restricted to bring your own equipment into any park.
Calypso Kayaking has become the best water sports outfitters in the Central Florida Area.
I reached this by offering extended hours for folks to get on the water. With my services like guided tours, rentals delivered to you, and rentals you can take with you. You can rent by the hour, half day, all day, all week- we can make it happen.
Large groups are welcome. I have a large fleet of kayaks and paddleboards ready for any size group. Calypso Kayaking is your place to book your next ADVENTURE!
Kayak & Stand Up Paddleboard Tours
Our tours are suitable for kayakers and paddleboarders of all ages and no paddling experience is needed. You will be kayaking on a sit on top kayak or a stand up paddleboard that is very easy to paddle. You can expect to get a bit wet, so wear a bathing suit or clothes you don't mind getting wet.
You will have to step into the water to get on the kayak or paddleboard and we also like to wade in the water at a remote island looking for marine life so wear water shoes or flip flops. I don't want you to cut your feet.
During the summer months, morning and early afternoon tours are recommended. In Florida, afternoon thunderstorms are frequent.
Round Trip Shuttle From Orlando Available Upon Request
We offer round trip shuttle services from Orlando for $100 that includes up to 12 passengers. You must call for arrangements and availability. 321-639-7350